Earn Bee Points
Earn more Bee Points for different actions, and turn those Bee Points into awesome rewards!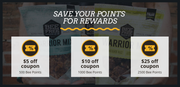 Get Rewards
After saving enough Bee Points, it's time to spend them on amazing rewards! You can use the points on discounts, free products or perks.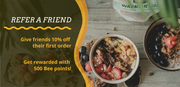 Referrals
Give your friends 10% off their first order and you get 500 Bee points for each successful referral. Use the link in the rewards launcher to invite your friends and get your unique discount codes.
Frequently Asked Questions
---
How to claim my reward?
Use the "Redeem Rewards" link to redeem your Bee points and exchange for the corresponding voucher value to get your unique discount codes sent to you via email. A discount code can then be applied to any BeeFree purchase.
What are the ways to share my referral code?
Share your personal referral link via Facebook, Twitter or email. If you provide a personal link to a friend by email, the email must be created and distributed in a personal manner that is customary for communications with friends, colleagues and family members. Bulk email distribution, distribution to strangers, or any other promotion of your personal link in a manner that would create or appear to create unsolicited commercial email or "spam" is prohibited.
Is there a limit to how many friends can use my referral link?
Rewards will be cumulative and so if you make multiple referrals to BeeFree, multiple rewards will be delivered to you as the referrer.