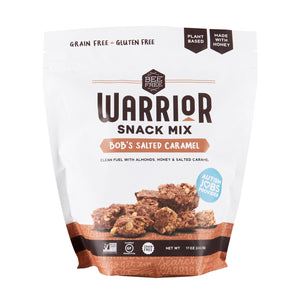 BeeFree Gluten-Free Bakery
Bob's Salted Caramel (17 oz)
Sale price Price $15.99 Regular price
Because we know 9 ounces of Salted Caramel is never enough, we've come to the rescue and created this mega bag to save the day!
-  -  -  -  -  -  -
All our products are inspired by our son, who is growing up fighting the battle against autism.  He's a real life warrior, armed with a gluten-free diet and overcoming one day at a time.  

Each of us has our own unique battles to fight each day that require our time, focus and energy.  But inside us all is a warrior's heart that yearns to rise above and conquer those challenges.
I hope you feel the power of these real ingredients made with tender loving care. 
Ways to enjoy Warrior Mix:
Right out of the bag
In a bowl with your favorite milk
As a topping for yogurt
With a spoonful of nut butter
INGREDIENTS: almonds, honey, almond meal, coconut, pumpkin seeds, sunflower seeds, organic coconut oil, vanilla extract, almond extract, sea salt